Welcome! Course Syllabus, Expectations, and Sorting through Supplies
Welcome to Connect with Your Divine Creativity!
You are in the right place if you ready to encounter God through a new, exciting, colorful doorway! You are embarking on a fascinating journey towards an ever more vibrant relationship with your deepest self and your divine source of energy. This course is for you now, in this season of your life, because now is the best time to combine creative expression and spirituality. Congratulations on answering your innate drive to weave creativity into your spiritual journey.
This course is 10 weeks long which gives you an entire season to explore using art journaling as an easily accessible and low risk way to connect with your divine creativity. All of the lessons will be taught using an art journal but are readily transferable to any substrate. In fact, the art journal is a perfect place to take risks, try new approaches, and work up ideas that you will want to take to a larger finished piece that is suitable for framing! Each week, lessons will include a mix of explanation, videos, pdfs for you to explore.
I designed the course to encompass a season because that is how our lives are lived. One season at a time. A season is one part of a larger whole. The word "season" may make you think of the four parts of the year or maybe the sporting world. But for this course, think in terms of times in our lives marked by life transitions that separate what came before with your new "normal." The seasons in our lives may change as our obligations or interests change, from childhood, courting, career building, raising a family, empty nesting, or maybe navigating a new living or loving arrangement. What season are you in right now? What are the external demands of this season? What are your internal needs in your present season of life?
As my children grew more independent and needed me less, I had more time to hear and respond to a deep longing that was calling me to pay attention. I heard the Divine inviting me to come closer and deepen my connection, rather than just going through the motions on my spiritual journey. Soon, I discovered that when I combined listening to God with playing with my art supplies, my creative expression became a soul-nourishing way to connect with that divine spirit inside of me. And allowed me to have some fun along the way!
In this course, that invitation is yours! What will happen when you combine your spiritual journey with creative expression? I am honored to accompany you on this journey, and I can't wait to see how it will unfold!
What You Will Get Out of this Course
Deeper and richer connection to the Divine and to your truest self

Greater awareness of God's presence in your life

Clearer understanding of how God is calling you forward in your life

Exploration of rich and varied creative methods to express yourself, your voice, and the truth that is deepest in you

Instruction on ancient prayer practices that can help navigate today's lived experiences

A sense of gratitude and peace in the midst of turbulence, both within and around you
What to Expect from Me
In this course, you will get access to several new lessons each week. The lessons combine ways to connect more deeply with your inner wisdom, with the Divine, and with your creativity through art techniques, instruction on aspects of spiritual development, and reflection prompts.
This course is self-paced and I'll release new material every seven days. Over the course of each week (or longer - at whatever pace you need), you can combine the lessons in whatever way you find pleasing, or you can chose to repeat past lessons or techniques. Some of the lessons introduce new ways to communicate with the Divine - you might want to use those in place of your current methods of prayer, at least for this season. The art lessons could be completed all in one session or over the course of the week. They could be added to techniques you already know or combined with other techniques you will learn through this course. Make it your own practice of creating and connecting!
Our Itinerary: Course Syllabus
Wecome: Our itinerary, Expectations, and Sorting through supplies, Adjusting your Mindset, Giving yourself Permission, and Beginning Art Assessment.
Week One: First Layers: Blank Page Paralysis, Blind Contour Drawing Exercise, and Learning the Examen.
Week Two: Who are you? Identifying your Identity and Face Time.
Week Three: Who is God for you? Image of God, Gospel Contemplation and the Magic of Value.
Week Four: Finding Quiet: Centering Prayer and Mindful Mandalas.
Week Five: Finding God in all Things: God in Nature. Where does God come to meet you? and Visio Divina.
Week Six: Letting Go: Disordered Attachments, Being Gratitude for what is, and Letting Go of Outcomes with Watercolors.
Week Seven: All the feels: Feel your Feelings, Drawing Lament, and Rising from the Ashes.
Week Eight: Being True: Finding the True Self and Mask and Stencil Technique.
Week Nine: Speaking Truth: Powerful Affirmations and Text as Art.
Week Ten: More Fun Techniques: Painted Collage, Praying with Zentangles, and Zendala Notes.
Week Eleven: Wrap Up: What do you need to hear from God today? Art Reassessment and Next Steps.
Any questions? I'm just an email away: [email protected]
Let's begin!!
---
Supplies for the Journey
You will find details and more links in the Art Supplies pdf.
Art Journal
You can use a mixed media or watercolor journal which will have paper heavy enough to receive wet media (like paint).  You could use an old hard-bound book that you have altered to serve as an art journal by removing ever third page or so, and applying gesso (acrylic primer) over the remaining pages if they need strengthening.  Or you can bind your own journal with a simple pamphlet stitch and several signatures of folded watercolor or mixed media papers. Email me at [email protected] if you need further details on the type of book to use.
Colors
Paints: Use your favorite: watercolor, acrylic, or gouache paints will all work well

Colored Pencils, water-soluble or not

Markers

Oil Pastels - If you don't have any supplies already on hand, I recommend you start with these.  They are creamy crayons for adults and a pleasure to work with. I like the

Crayola Portfolio Series water-soluble oil pastels.

All of the above!  I love to play with

all the media

because each type adds something different to your art.
Brushes
You will need a few different sizes and shapes. Start with a 1-inch flat brush, a medium sized round brush with a pointed tip, and a tiny brush for details. You'll also need an inexpensive brush to apply the glue-like gel medium if decide to use that for your adhesive.
Writing Utensils
I recommend a waterproof medium tip marker: Faber Castell's Artist Pitt Pens or Pigma Micron Pens work well.  I also recommend a White Uniball Signo Pen for adding details and highlights, too. Try out the ones you already have, testing to see if they are water-proof or likely to smudge.  
WARNING:  Let any paint dry completely before writing over top with a pen or marker.  I have ruined too many pens by being impatient! 
Adhesive
Glue sticks are easy to use and readily available but I prefer using matte gel medium because it creates a more permanent bond.
A Space of Your Own
Of course, your own studio would be lovely but practically speaking, look for a little corner where you could leave your materials out and ready to go. That would remove at least one obstacle to doing this work. ;) If that is not feasible, find a basket or container to corral your art journal and supplies and keep them ready to go.
You can download and print out the Supplies List pdf below.
Any questions? Email me at: [email protected]
A little bit about me!
I'm Mary Coffey and I am honored that you are here!  Whether you want to add more soul to your creativity or more creativity to your spiritual journey, I can help!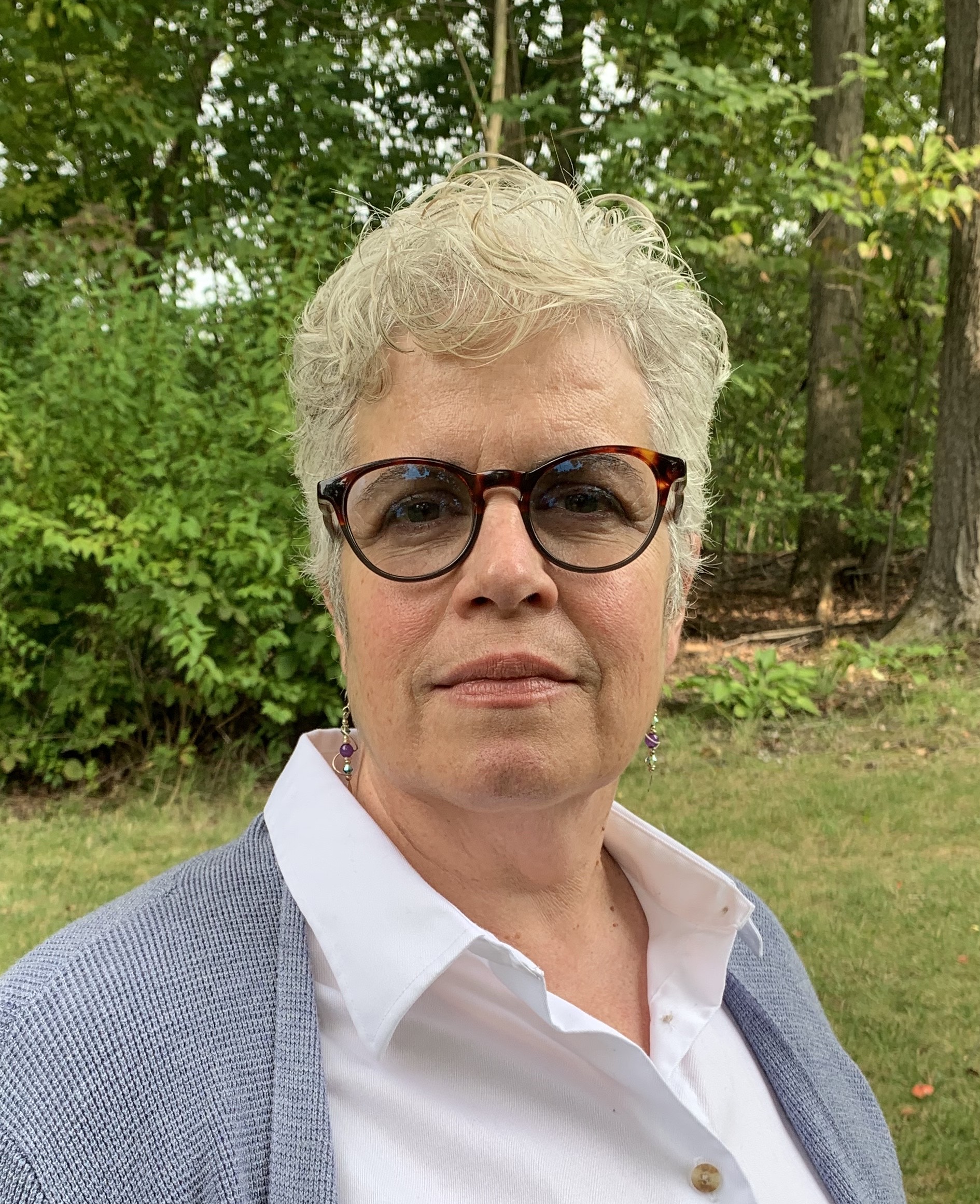 I love to see how God shows up and calls us to create a more colorful and just and peace-filled world around us. Passionate about helping people who are ready for a deeper connection with the Divine, I am excited about finding new paths back to an authentic, healthy relationship with God.  
My artist soul is self-taught and playful!  My favorite art medium is acrylic paints layered with all kinds of collage fodder and mark-making tools. I love to paint faces with expressions that make you stop and wonder what that one is thinking. I also enjoy playing with watercolors and letting them flow without trying to control the outcome. A metaphor for life!
The spiritual part of me is still amazed that God cherishes each one of us and surrounds us with unconditional and unending divine love.  I'm a certified spiritual director, and I have a master's degree in theology from John Carroll University and a law degree from Washington University - I love to see how God connects all those dots!  
Through in-person and online classes and retreats, I explore how spirituality and creative expression intertwine in new and exciting ways.  It's all connected!
Besides playing with color, I love hiking to waterfalls, snap-chatting with my four grown children, and reading in my pjs.
Complete and Continue