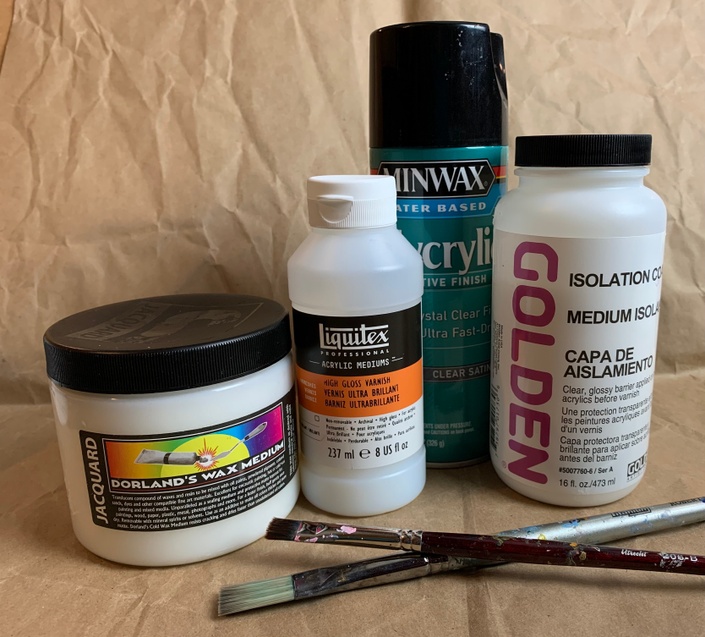 FINISH STRONG
Choose and Use the Right Products to Finish and Protect your Mixed-Media and Acrylic Artwork
Calling all mixed media and acrylic artists!
Are you wondering if you need to seal and protect your finished acrylic artwork?
Are you uncertain about which products to use and how they will impact the media you used?
I tested a variety of products to seal acrylic artwork and I'll show you how they turned out on canvas panels and on paper substrates with lots of texture and all the mixed media choices. I've done the work for you!
Recently I was completely confused about how to varnish an acrylic painting that was going to hang in my brother's bathroom. It needed to withstand bathroom-level humidity, but I didn't know which kind of product to use or how to apply it! I was scared that whatever I did might ruin months of hard work. And I needed answers fast. I made some anxious decisions and I'm still keeping my fingers crossed that I made the right choice for that installation.
After watching gel pens smear, paint pens dissolve, and spray varnish sputter, I knew it was time to test all of my favorite textures and mediums so that I would know how to finish strong with the confidence that my paintings wouldn't be ruined when I applied products designed to protect them!
Join me in Finish Strong as I explain the reasons why it's so important to seal your artwork with varnish or wax medium. I'll help you decide whether to use an isolation coat as a barrier between your paint and the final sealing product, and what happens to some media when you do. In Finish Strong you'll learn how to choose from (1) spray-on water-based varnish, (2) brush-on archival water-based varnish or (3) a rub-on wax medium. I even share my application tips, what to do, and avoid doing, with each product.
The results of my tests will help you decide what to use or avoid on your next masterpiece and how to add the final finishing touches. Finish Strong will give you the clarity to choose the right products for the media you use in your artwork, and the confidence to apply those products to protect and seal your acrylic paintings. It might even encourage you to take more risks in your art!
What you will learn:
You discover why it's important to take the extra steps to protect your artwork.
You will learn how and whether to use an isolation coat.
You will learn how to apply water-based spray varnish, water-based brush on varnish, and cold wax medium.
You will learn which products to avoid using on your media - not all products and media play nice together!
You will gain the clarity and confidence to apply a sealing product onto your finished piece that will enhance and protect your work.
What you need to begin:
You'll need the desire to protect your finished acrylic work.
A finished (or almost finished) piece of art that you want to display on a wall or sell to your collectors.
A willingness to experiment with different combinations of the media you use and the products I recommend to see what works best for you!
Before buying any supplies, I recommend that you go through the entire workshop so that you can decide which products are right for you and your art.
This is for you if...
You are confused about all the choices available.
You want to protect your artwork from dust, debris, accidental spills or unauthorized additions.
You'd like someone (like me!) to guide you in the process, showing you what to watch out for and how to proceed.
This workshop is not for artists who...
are looking for techniques on how to start an acrylic painting.
are looking for information about finishing oil paintings. I did not include watercolor in this workshop but I have successfully used several of the products tested here on my watercolor pieces. Create your own sample pieces and give it a go!
Frequently Asked Questions
When does the course start and finish?
The course starts now! It is a completely self-paced online course - you decide when you start and when you finish.
How long do I have access to the course?
After enrolling, you have unlimited access to this course, the videos, the written materials and the pdfs, across any and all devices you own.
What is your refund and cancellation policy?
FINISH STRONG is non-refundable and non-transferable. Please CONTACT US if you have a problem or need help. We want you to be happy and make art!
Are the videos downloadable?
The videos in FINISH STRONG are not downloadable. But you do receive unlimited access to all the videos, written material and the pdfs.
What type of technology do I need?
1. A computer or mobile device with connection to the internet. A high-speed connection will help reduce possible frustration. 2. A working email account that you are familiar using. 3. You need to be comfortable with basic computer skills – primarily accessing videos.
Is Mary available to answer questions or give feedback?
FINISH STRONG is a self-paced eCourse. Mary is available to answer questions via email, but will not be providing individual feedback on your work.
What are other artists saying about FINISH STRONG?
"Well, I never finished a painting because I didn't know how! Thank you! My art career just took a giant step forward. This was a total revelation for me."

-- Lee, Virginia Artist
"There was great information and super thorough! Wonderful and clear PDF's!"
-- Lynne, North Carolina Artist
"This is a wealth of information! It is so thorough. Like a scientist with a complex hypothesis, Mary goes through each substrate and media in a very easy to follow fashion. The pdf chart will be a great resource for my studio. Love it!"
-- Katherine, Florida Artist
Your Instructor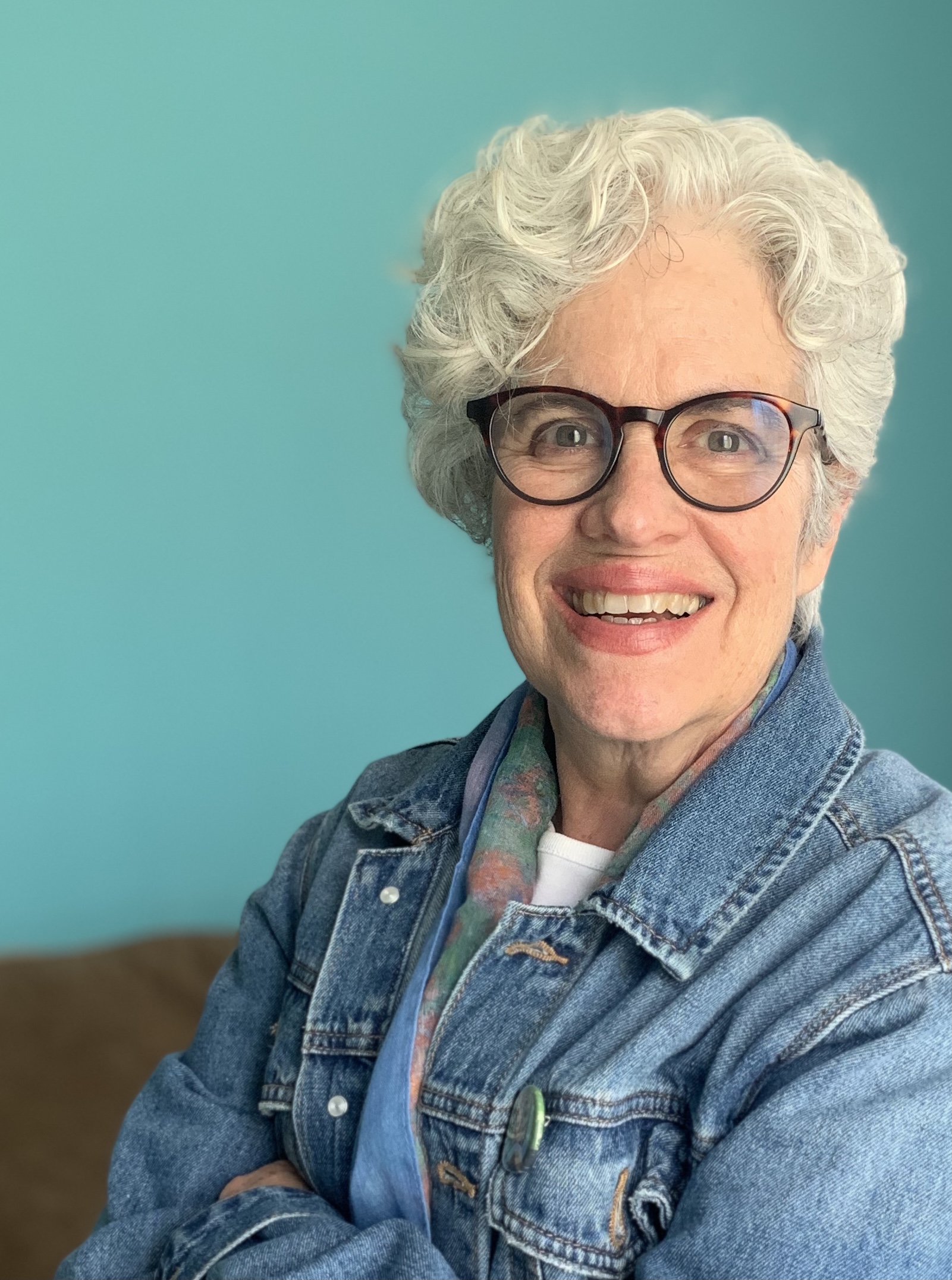 I'm a mixed-media artist, a certified spiritual director, and an ordained independent Catholic priest with a curiosity for seeing how the Divine shows up in and through creative expression both on the canvas and in real life.
I explore how spiritual connection can be the fuel that energizes creativity and leads to greater flourishing. I invite women to release toxic theological beliefs, find a new path back to an authentic, healthy relationship with the Divine, and embrace what feeds their souls.
My art retreats and online courses offer a mix of self-reflection and artful play designed to guide women to deeper levels of self-trust. I empower women to turn toward that which is deepest within them rather than waiting for external permission and approval to live life to the full. I believe that through creative expression, women find their own voice and learn to express it in a joyful and soul-nourishing way.Whether you want to add more soul to your creativity or more creativity to your spiritual journey, I can help!
When I'm not making a colorful mess in my art space, you can find me hiking to waterfalls, snap-chatting with my four grown children, or reading in my pjs on rainy days.
Course Curriculum
INTRODUCTION
Available in days
days after you enroll
SUPPLIES TO CONSIDER
Available in days
days after you enroll
THE ISOLATION COAT
Available in days
days after you enroll